Search Engine Optimisation
Do you have a website that struggles to get any visitors? Do you find yourself placed on search engines irrelevantly? Do you want more quality traffic?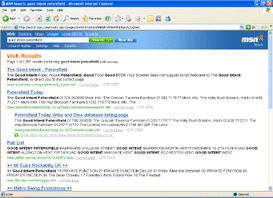 MSN SEO for; Good Intent, Petersfield (#1);
If you find yourself answering yes to any of the above questions or you simple want to make sure your site is optimised to its full potential then you have come to the right place.
We have achieved high rankings on search engines with the majority of our websites, the minority unfortunately, have had to settle for second.
We carry out research into the way search engines, such as Google, Yahoo, Lycos/Hotbot and Metacrawler 'crawl' your site. With this we can determine what your website needs to give it a high ranking and from this, more quality traffic - that is, visitors that want to be on your site!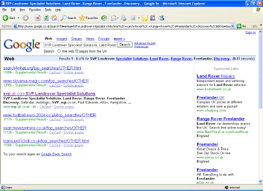 G

oogle SEO for "SVP Land Rover Solutions" (#3)
In the examples shown on this page we achieved a position on MSN of 1st for the term "Good Intent Petersfield", for there website www.stuartinns.com. As for www.svp.gb.com, we managed to obtain 3rd position for the term "Land Rover Specialist Solutions".
Optimisation is an ongoing process and we will monitor your site in order for it to reach the desired placement.